Tiny part of the 5,000 sq ft at
Alex's Place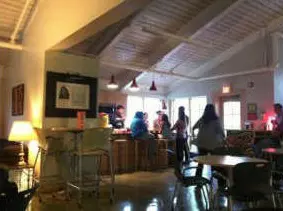 On March 12, 2005, the YMCA of Martha's Vineyard opened the Island's first teen center in 20 years. As one newspaper wrote: "After more than a decade of talk and promises . . . it was ultimately the YMCA that came through in the clutch. They succeeded where others failed for one simple reason. 'They did not give up'."
Thanks to total grants of $1,384,923 by Alex's Foundation and $186,415 from third parties, Alex's Place has now been domiciled in its permanent quarters at the YMCA of Martha's Vineyard for five years. Please keep giving to help sustain this incredible facility by clicking on the "Make a Donation" link above or on the "Donate Now" link on our Home page. Either way, we hope you will be as generous as you can!
To find out more about the activities of the teen center, click on the Facebook link in the header above.
Name: Bodie Gagnon
Town: New York and Vineyard Haven
Relationship: Alex's big brother
Why a Teen Center on Martha's Vineyard?
"Part of the mission of Alex's Foundation is to support substance-free environments, to encourage young people to learn about team work, to meet and overcome challenges, to build character and self-esteem and to become responsible citizens. One of the many ways for us as trustees to accomplish those goals is supporting Alex's Place at the YMCA."